The Wilson Project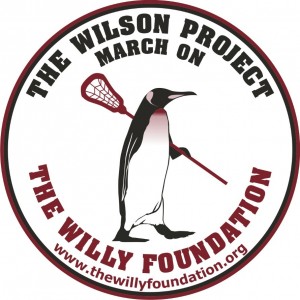 After Willy's passing, The Willy Foundation emerged as a way for us to channel our abiding feeling of tremendous loss in a positive direction.  The Foundation was a catalyst for some of us to change our lives, find a talent that he or she did not know about, or to make ourselves and those around us better.  Of all of us, Wilson is arguably the only one who checked off all three boxes.  The last seven years of his life—while marred by tragedy—may have been his best stretch of years.
In reality, he grew in to himself.  He had a new purpose and a new seriousness about him without ever losing what made him quintessentially Wilson.  Over those seven years, Wilson honed his trade, took better care of himself, contributed mightily to the infrastructure and implementation of the Foundation, and got more involved in the community.  But, I believe if asked, he would have said that many of his proudest moments were spent coaching the George Washington Lacrosse Team.
Wilson never lost his passion for athletic competition during his life, much to the dismay of those of us who played against him.  At one time or another, he played soccer, baseball, football, squash, tennis, golf, and lacrosse.  When he returned to West Virginia from Massachusetts, he found—like many before him—that there was little to no lacrosse culture in the state.  And, so it goes, Check this site http://RolandDeWolfePoker.com.
As Willy began to show the determination to be a great tennis player, Wilson was there to support him.  Some of us unfortunates know what it is like to be beaten unmercifully by a twelve year old boy on a tennis court after playing the game our whole lives.  It takes a selflessness and a lack of ego to endure that time after time, but Wilson was there time after time.  If Willy wanted to go hit, Wilson would go hit with him.  While Wilson couldn't keep up with Willy on the tennis court, he could impart a lifetime's worth of lessons learned the hard way of how to compete and how to compete the right way.  In short, Wilson became a true mentor to Willy.
When Wilson was approached in 2009 to work with the fledgling team, lacrosse had barely taken root in the Kanawha Valley.  Along with Steve Odekirk, Brad White, and many others too numerous to name, Wilson helped to build George Washington into a team that steadily improved year after year, reaching the championship game of the playoffs in Division I of the West Virginia Scholastic Lacrosse Association in 2015 and 2016 under Head Coach Brad White.  The team has also produced several players who compete at the collegiate level.
While Wilson was the defensive coordinator, whenever he talked about the team, it was never about his role or what he did.  Wilson always talked about how much a player had improved, or how to help a player improve.  When a player received an individual accolade, he was thrilled.  The only thing that made him prouder was to see the team win because Wilson, like many of us, believed that enduring character is found and formed on the fields of play.  In sports he believed that you learn to win the right way, and, perhaps equally importantly, to lose the right way.  But, there are many more enduring lessons in life to be found in team sports.  A team has to communicate, a team has to rally around a teammate who is struggling and lift him or her up, a team has to work together, and a team is always stronger than one person.  In sum, a team fosters   a commitment to other people that is the bedrock of a community.  Wilson always thought that sports prepare a young person for life, as well as being part of being a well-rounded person.  That is the stuff of a mentor.
While the Foundation was designed originally around Willy's core values, those values were shared by Wilson and all of us.  The outpouring of donations to the Foundation in his memory was overwhelming, and we will use those donations for a specific reason.  Accordingly, moving forward, the Foundation will honor Wilson's memory by, among other things, working on a local, state and national level to continue to build and champion the great game of lacrosse under the name of The Wilson Project.  Other initiatives will follow organically.  While we cannot make the difference Wilson did on and off the field, we can certainly give it our best shot. Together, in the words of Coach White, WE MARCH ON.